Educational Benefits of Outdoor Activities
Outdoor activities courses have become a standard part of school life for most British children. At some time or another in their school career, most children in the UK will be given the opportunity to take a course at an outdoor activities centre. Increasingly, businesses are also using outdoor activities trips, and they can sometimes even be booked by stag and hen parties looking to do something different. So, what is it that makes them so popular? What benefits do they bring for those taking part?
Gaining New Skills
Gaining new skills is an educational benefit in itself. Learning how to use a compass, abseil or climb safely are all useful skills. They may not have an obvious, immediate practical application, but learning any skill helps lead to other skills. For example, learning how to abseil will improve balance and motor skills that are useful on a daily basis.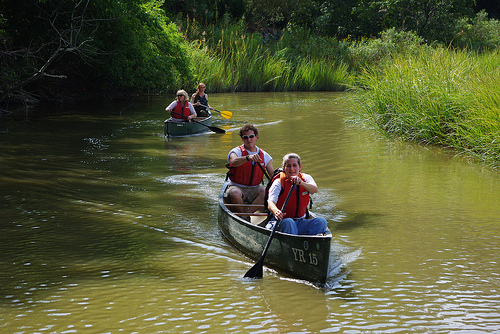 Improving Confidence
Learning new skills also helps improve confidence and self-belief. For both children and adults, the knowledge that you have successfully mastered something new increases your ability to master other new skills. Having learned to climb, for example, you might go back to school, college or work more confident in your ability to master maths, or tackle a difficult report. There is lots of evidence that confidence in one area, leads to confidence in others. Outdoor activities can also improve self-reliance. They often demand that participants think for themselves, and solve problems independently – as with orienteering.
Building Teamwork
Most outdoor activities encourage teamwork and trust. In the day to day world, we rely on others to do things constantly, whether it is collaborating on a presentation, or playing a game in the playground. The experience of having to do this in an outdoor activities situation forces us to challenge our own pre-conceptions about those that we work or learn with. They force us to learn more about each other, as in order to rely on someone, you need to know who they are. Once you've had to trust your colleague or friend to check the knot in your climbing rope, you are far more likely to be willing to learn from and with them in another setting.
Outdoor activities have huge educational benefits for all sorts of people. At any London school English and maths lessons are a vital part of education, but so are outdoor activities, which help students develop as people. For those who come to the UK to learn English London and other big cities are great places to be, but an outdoor activities course offers a chance to learn in a much more rounded way. And for corporate groups, outdoor activities help people improve their performance back in the office.