Sofia Night Life
Comprehensive information on Sofia entertainment, bars, clubs, discotheques and nightlife. The nightlife of Sofia is concentrated in Old Town and streets nearby. Many of places that are cafés and restaurants during day time became booming party zones. The bars have usually open till 4 AM, the most hottest places even till 6 AM.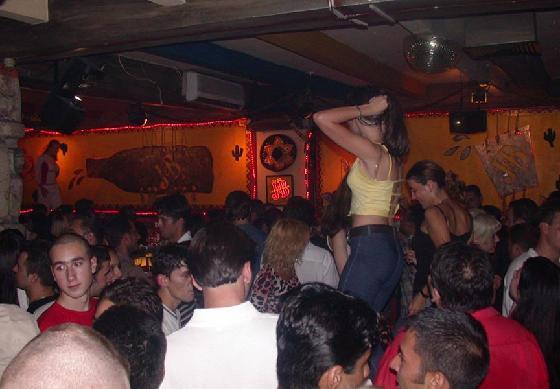 Here are some Discos and night clubs in Sofia worth visiting :
Caramba
Tsar Osvoboditel Blvd. 4
Latino music every night
In the last few years Latino Club Caramba has become the hit of night Sofia. Situated in the center of the city, in Bulgaria Hotel, it attracts all party-lovers. The club offers an extensive and original Latin American experience until early in the morning. Its uniqueness is in the atmosphere, which makes you want to dance all night and feel as if you have no worries. This mood is created by the live performances of VIP Brass Band and the DJ's dance music selection. Staff members take a break from the hard work by dancing on stage or straight on the bar counters. The famous Tropicana ballet surprises the clients with a varied dance programme. There are theme nights: Monday is "Macho de la Noche" - female striptease. Tuesday is for the retro music fans. Wednesday is the male striptease night and Thursday is promotions' night. On Friday and Saturday there is a little bit of everything and the party goes on until dawn. Sunday is the Cuban Party night - Latin music and dance. The club is also famous for the beauty contests that are often held there. You can easily find it at the boulevard on which the Parliament and Radisson are close to Chervilo.
Some parts of the program: Cuban variete, Senorita de la noche, Retro Party, Macho de la Noche, Promotions
Dali
Shipka 6
Two separate rooms. One of them with disco music, the other not noisy.
Some parts of the program: Variete & Mambo Sound, Maximus (erotic show for women)
El Corazon
Graf Ignatiev 12
Nice atmosphere to dance and relax
Some parts of the program: DJ Party - DJ Dony, Latino Fiesta, Lady's Night/ erotic show
Enigma
Pozitano str. 3
House music, techno and latino feature
Some parts of the program: Tequila Party, Retro party, BG party
Chervilo
Tsar Osvoboditel Blvd. 9
a posh place, very modern in Sofia!
Great interior and good cocktails
Some parts of the program in the Gold Room: House Session
Some parts of the program in the White Hall: DJ TIMST'R (Amsterdam, Holland), Latino, DJ Ilko - Disco House Groovy & Funky, DJ Don40 - Cubano Night
Escape
Angel Kanchev 1
on of the best discos in town
Popular night venue
Some parts of the program: House party, Tequila Party, Retro Party